Annual Awards 2020/22
The Clare Association Dublin – Muintir an Chláir is delighted to announce that the Awards Dinner were held in the Falls Hotel, Ennistymon on 1st October, 2022 following the postponement of the Annual Awards Dinner in 2020 due to the pandemic.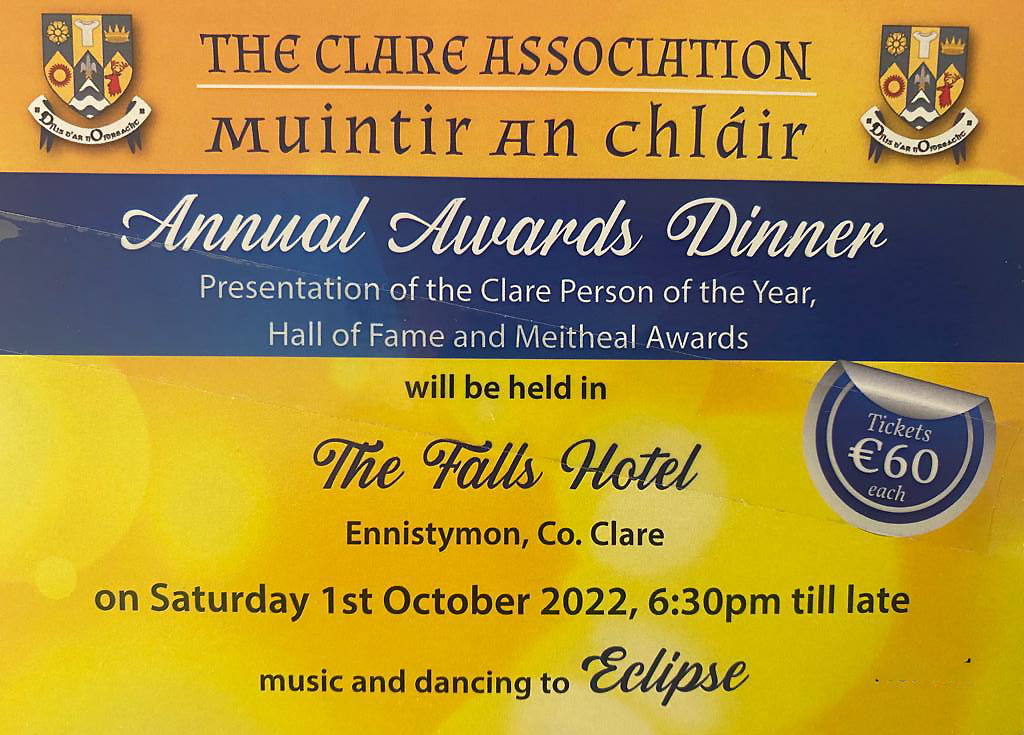 Clare Person of the year 2020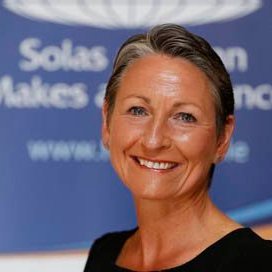 The Clare Association Dublin– Muintir an Chláir is pleased to announce Dr. Susan Crawford, Autism Advocate, as the Clare Person of the Year for 2020.
Susan is being recognised for her efforts to address quality of life issues for children and adults with autism.
Through her commitment to education, research and the provision of practical programmes she is striving to make a real difference in the lives of those on the autism spectrum. She promotes the necessity of fundamental movement skills in regulating behaviours especially those of people with autism.
Susan's interest in the area of autism was inspired by her own son, Tomás, being diagnosed with autism in 1998.
She specialises in focusing on autism from research, policy and practice perspectives. She has been actively involved in addressing the learning and overall development of education, health and activity programmes for children and adults with autism for over 20 years.
She completed a PhD in the field of Fundamental Movement Skills and Autism in 2007. She is a two time Fulbright Award winner for her work on development of autism awareness programmes. She has researched and developed the Get Autism Active online programme.
Get Autism Active is committed to developing skills of movement for children and adults on the autism spectrum. Research has demonstrated that having a repertoire of movement provides opportunity for further development of health related physical activity, participation in exercise and sport and social inclusion. It also enhances inclusive practice and development of opportunity particularly for children and adults with diverse needs.
The objectives of the programme are to attain equality of access for all especially in the areas of skill development, education and health. Its specialty area of expertise and research includes fundamental movement skill development for children and adults with autism and health related research across the lifespan.
Susan is actively involved in fundraising and developing awareness of and for Autistic Spectrum Disorders. She has completed marathons, half marathons and 10k runs all over the world including one in the Antarctic. Susan's son Tomás is also a keen runner and has joined her to complete several 10km runs and half marathons nationally and internationally. In 2019, she undertook a 2,500 km walk, run and cycle along the Wild Atlantic Way from Kinsale to Donegal in a bid to build awareness around autism and to promote Ireland as "autism active and autism aware"
Hall of Fame Award 2020
The Clare Association has voted to honour Mary Fitzgerald with a Clare Association Hall of Fame Award for her outstanding contribution in the area of domestic abuse in County Clare in providing refuge and support services to women and children fleeing domestic abuse through Clare Haven Services.
This award honours not only Mary's efforts and also recognises the dedication and efforts of Colette Redington, Gerry Brennan and Madeline McAleer and the tremendous work of the Clare Haven Horizons Charity Shop which supports both the frontline services and the development work
Clare Haven Services is a voluntary organisation providing 24 hour residential refuge accommodation together with support and information to women and children who experience domestic abuse. It has an extensive range of support services to meet the needs of each individual and each family situation.
Haven Horizons, a national charity, has also been established to work to break the cycle of domestic abuse through international best practice and evidence-based prevention models and is committed to the elimination of gender based violence in society.
Meitheal Award

A Meitheal Award will be presented to the Ennis Tidy Towns Committee for their outstanding contribution to their local environment and for their consistency of achievement in the National Tidy Towns Competition.
Ennis Tidy Towns has over the years received a number of accolades from the National Tidy Towns Competition and is currently ranked Ireland's tidiest large urban centre.
The Clare Association Dublin – Muintir an Chláir is delighted to announce that the Awards Dinner will be held in the Falls Hotel, Ennistymon on 1st October, 2022 following the postponement of the Annual Awards Dinner in 2020 due to the pandemic.
2019
Clare Person of the year 2019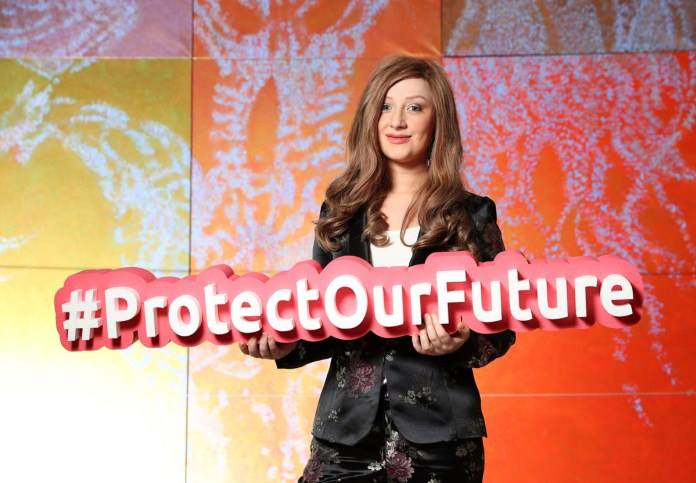 The Clare Association, Dublin is delighted to announce that Laura Brennan has been selected as Clareperson of the Year 2019. This award to Laura is for her courage and fortitude in the face of a terminal cancer diagnosis in publicly advocating in favour of the HPV vaccine so as to reduce the risk of other women developing cervical cancer.
Sadly Laura Brennan died in March, 2020. The HSE paid tribute to her with Anne O'Connor, Interim HSE Director General, saying, "We know that Laura has made a difference, and will have saved lives through her great effort and her tremendous generosity of spirit."
Offering his condolences to her family, President Michael D. Higgins said "Laura impressed so very many with her campaigning and her work as a patient advocate has had a real and positive effect on countless young women across the country."
Ar dheis Dé go raibh a h-anam dílís.
Hall of Fame Award 2019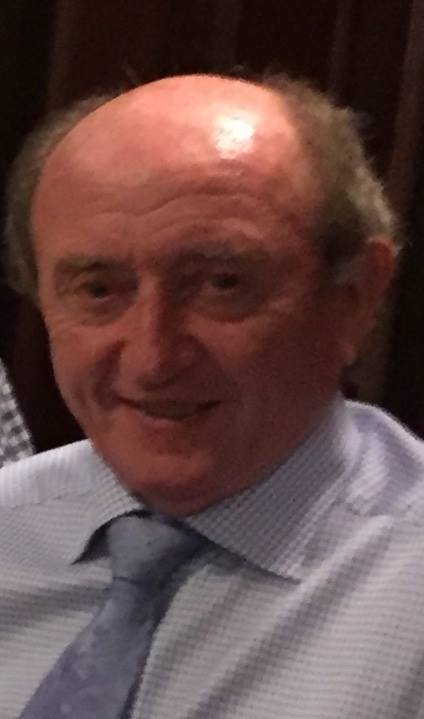 The Association's Hall of Fame Award 2019 goes to Christy Killeen a founding member of the Friends of Clare GAA. Christy has worked tirelessly over the years to promote all GAA activities associated with Clare and his love for Gaelic Games since his playing days for Cooraclare, has been evident in his endeavours as chairman to raise much needed funds for underage games in Clare. His leadership has resulted in over €500,000.00 raised and forwarded to Clare GAA Co. Board.
The presentation of these awards was held at the associations annual dinner at the Red Cow Moran Hotel on Saturday 02 March 2019 and all are welcome with dancing to the well known Patrick Roche Band.
[Tickets for this award night can be obtained through the associations website info@clareassociationdublin.ie or from Gerry on 086-8498192]
2018
Clareperson of the Year 2018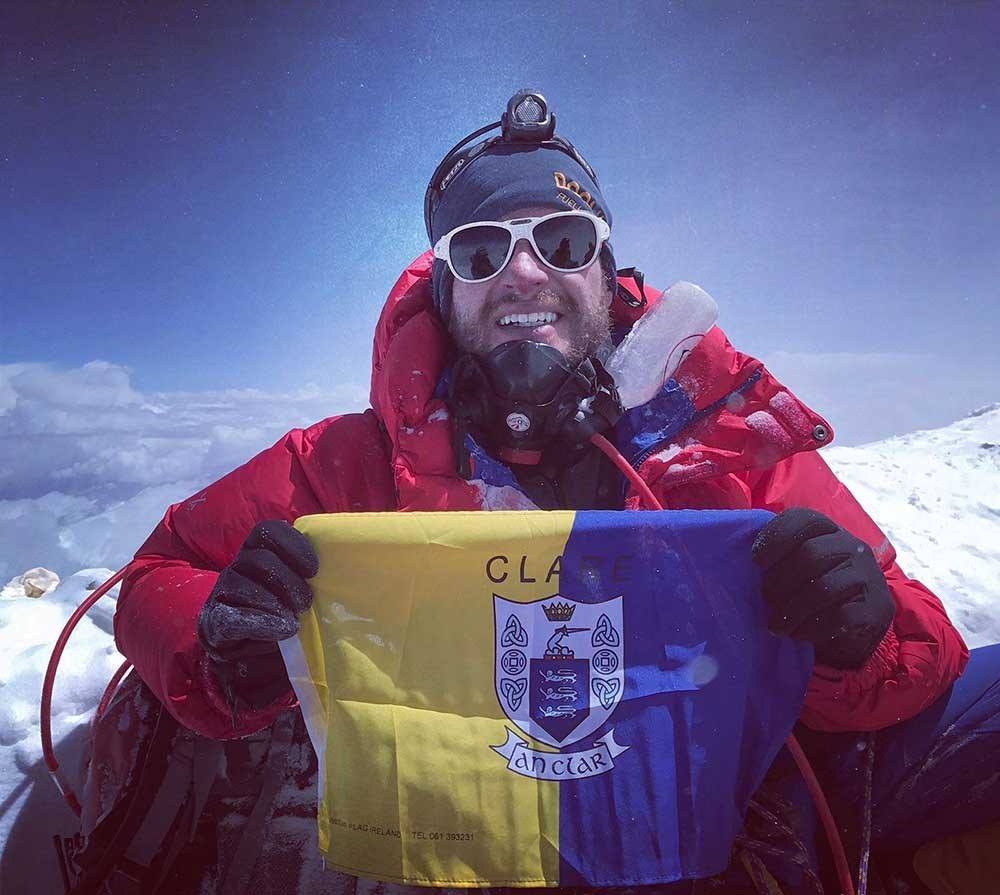 The Clare Association Dublin is pleased to announce that John Burke, hotelier, mountaineer and charity activist has been awarded the 2018 Clare Person of the Year. The announcement was made in O'Shea's Merchant Hotel & Restaurant at 12 Lower Bridge Street, Dublin 8 (Merchant's Quay) at 8 p.m. on Tuesday 5th December. Also on the evening the launch of The Clare Association Dublin 2018 Yearbook took place in conjunction with a presentation of a cheque to the West Clare Cancer Centre arising from the proceeds from the association's recent charity walk.
John Burke was recognised for his achievement in becoming the first Clare person to climb Mount Everest and for his efforts to promote and provide mental health wellness programmes for young people through his charity Elevate. He was formally awarded his accolade at the Association's Annual Dinner Dance held in the Red Cow Moran Hotel, Naas Road, Dublin on Saturday, 28th April 2018.
2017
Clareperson of the Year 2017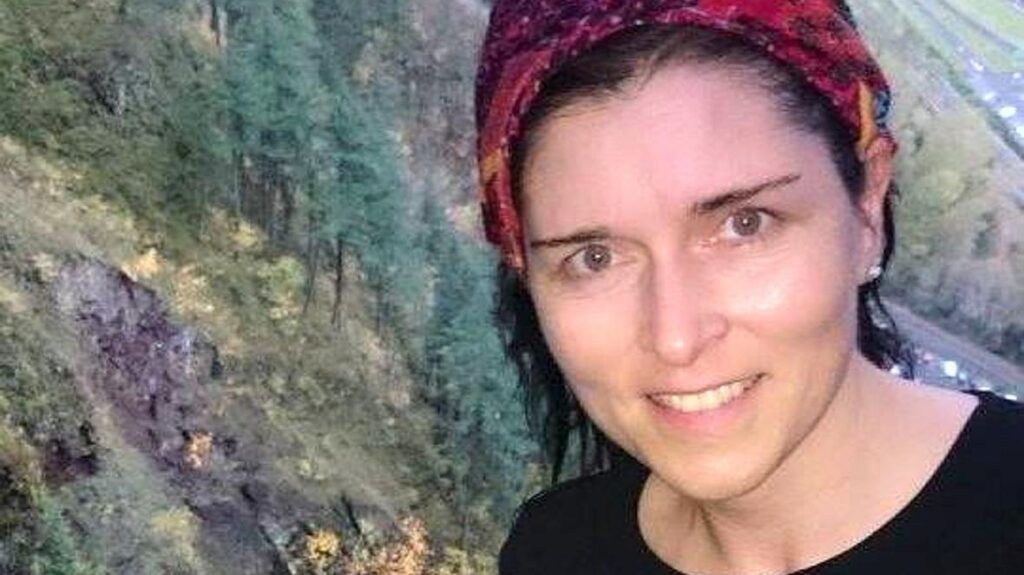 The Clare Association, Dublin – Muintir an Chláir announced on Wednesday 7th December, at the launch of The Clare Association's annual yearbook in O'Shea's Merchant Hotel, that Caitríona Lucas (R.I.P) is to be awarded Clareperson of the Year, for her outstanding contribution to communities in Co. Clare and beyond. This will be the first time that The Clare Association in Dublin, Muintir an Chláir, will make a posthumous award. Caitríona Lucas lost her life during a search and recovery operation with Doolin Irish Coast Guard earlier this year.
Speaking at the launch, Clare Association chairman Gerry O'Reilly said the association was honoured to be able make the presentation to Caitríona's husband, Bernard. The chairman said that she gave many dedicated years of her life to maritime activities around the coast of Clare, to the Doolin Coast Guard Unit, to the Search and Rescue Dog Associaton, to the Clare Library Service and to the North Clare community, including the many hours she spent in promoting awareness of water safety, especially among young people.
The presentation was made at the Clare Association's Annual Dinner Dance in The Falls Hotel, Ennistymon on Saturday, February 25, 2017. The chairman said that in the special circumstances, The Clare Association felt they should relocate their annual dinner dance from Dublin to North Clare in order to facilitate attendance by the North Clare community.
2016
Clareperson of the Year 2016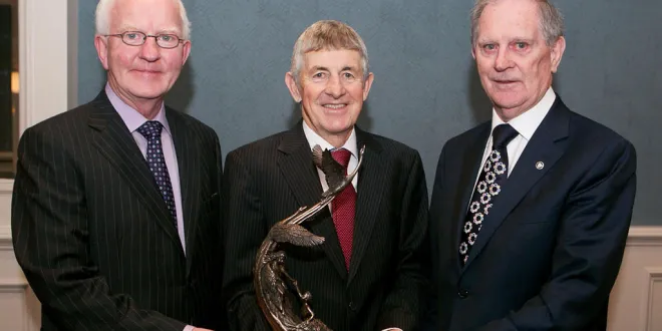 Muintir an Chláir, The Clare Association, Dublin is delighted to announce that Willie Keane was the recipient of the Clareperson of the Year 2016. Willie is a household name in athletics in the 32 counties of Ireland and beyond, for the past 50 years.
In 2015, Willie presented 56 All-Ireland Gold medals to be placed in the G.A.A. museum in Croke Park. It was a pleasure to be present on that occasion to mingle with the large numbers of athletes, past and present, who all had their own stories to tell of Willie's achievements on cross-country courses and tracks, all over the country.
To mention one year alone, 1969, Willie was 20 years of age when he won the annual 15 mile All-Ireland road race in Firhouse in Dublin. Willie says that was his first big win but that same year he won another five All-Irelands on the track, among them the 1500 meters and 5000 meters. It was the start of his 56 All Irelands.
Congratulations to Willie Keane and his beloved St John's Athletic Club, Kilkee.
The award was presented at the 2016 dinner dance in the Ballsbridge Hotel (formerly Jury's Hotel, Ballsbridge) on 23rd January, 2016.
2015
Clareperson of the Year 2015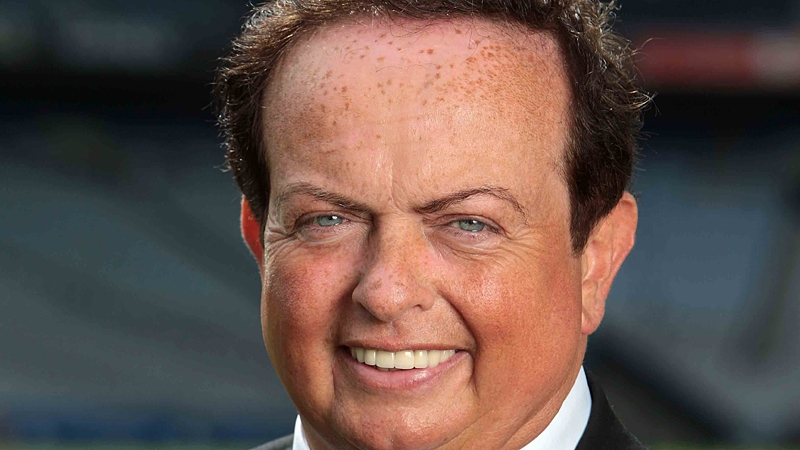 Muintir an Chláir – Clare Association Dublin is delighted to announce that the Marty Morrissey, RTÉ's Gaelic Games correspondent, has been presented with the Clareperson of the Year Award 2015 for his services to sport and to Gaelic games in particular.
In his youth Marty Morrissey was a dual player, playing hurling with Ballyea GAA and Clonbony GAA ,and Gaelic football with Kilmurry Ibrickane GAA, St. Flannan's College (runner up in the 1976 Munster Final), University College Cork and Clare GAA. He joined the RTÉ Sports Department in 1994, and has commentated on many sporting events but specialises in all matters GAA. He has worked on some of RTÉ Sport's biggest productions including the 2008 and 2012 Summer Olympics.
Hall of Fame 2015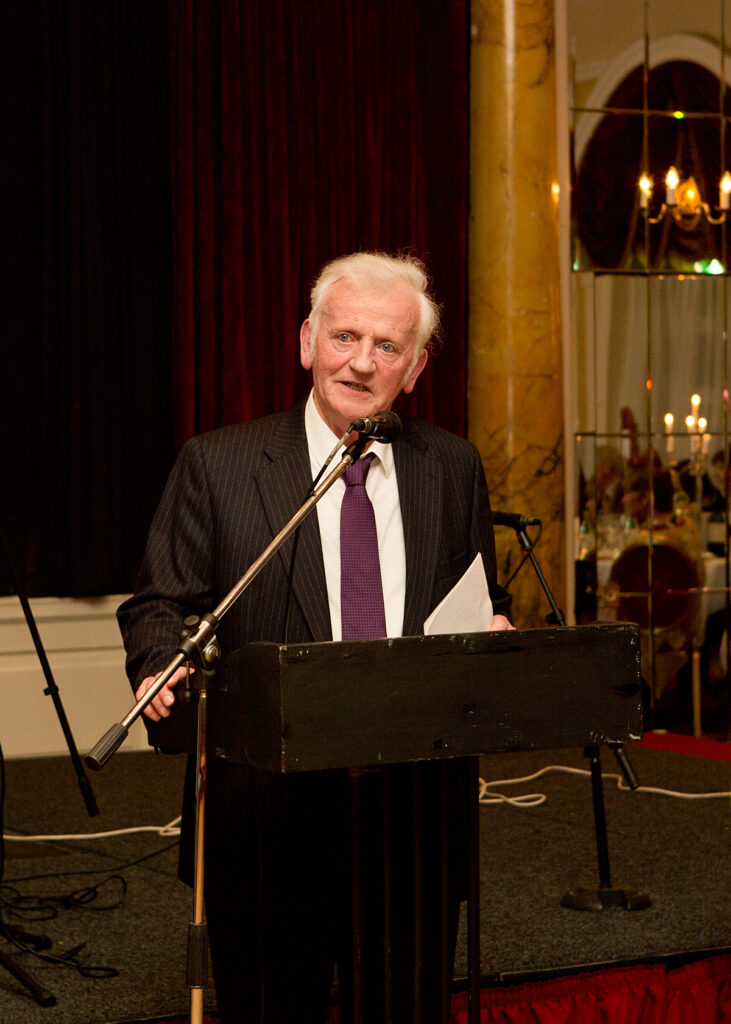 Tá an-áthas orainn a fhógairt gur bronnadh duais Muintir an Chláir – Clare Association Dublin Hall of Fame 2015 ar Shéamus Mac Mathúna. Is ceoltóir cáiliúil é Séamas Mac Mathúna agus tá sé ar a chumas an fliúit a sheinm, amhráin a chanadh agus portaireacht béil a dhéanamh.

Muintir an Chláir – Clare Association Dublin is proud to announce that Séamus Mac Mathúna has been presented with the Hall of Fame 2015 award for his contribution to traditional Irish music and song. From Gower, Cooraclare, Co.Clare, during his youth Séamus Mac Mathúna's interest in Irish music and singing was fostered by singers and musicians of the area.
When he was appointed Regional Organiser for Conradh na Gaeilge in Cork and Kerry, he moved to live in Cúil Aodha in the Muscraí Gaeltacht. An accomplished singer, musician and composer in his own right, in the 1970s he took up full time employment with Comhaltas Ceoltóirí Éireann as Timire Cheoil and moved to Dublin, where he recorded many of finest musicians and singers in Ireland for inclusion in the the Comhaltas Archive. Now in retirement, he continues to sing and perform regularly.
The awards were presented at the 2015 dinner dance in the Clyde Court Hotel, Ballsbridge on 31st January and a great night was had by all.
2014
Clare Person of the Year 2014

The 2014 recipient of Clare Person of the Year is Mr. Davy Fitzgerald, RTÉ Sports Manager of the Year Award 2013, Manager of the County Clare Senior Hurling team and the 2013 All-Ireland Senior Hurling Championship winners.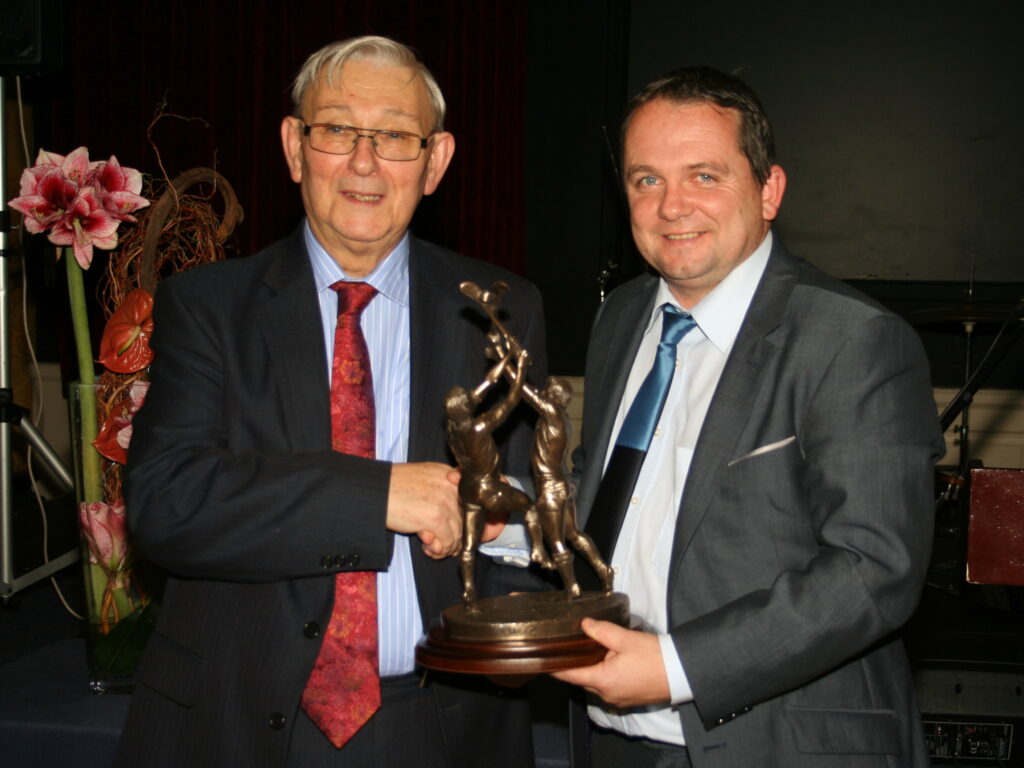 We wish to acknowledge the well-deserved success of the Clare Senior hurling team in winning the All-Ireland Championship in a thrilling match replay against Cork on September 28, 2013.
This talented team lifted the spirits of Clare people everywhere in a magnificent display of hurling skill which made this match one of the most enjoyable sporting spectacles in recent times.
Hall of Fame 2014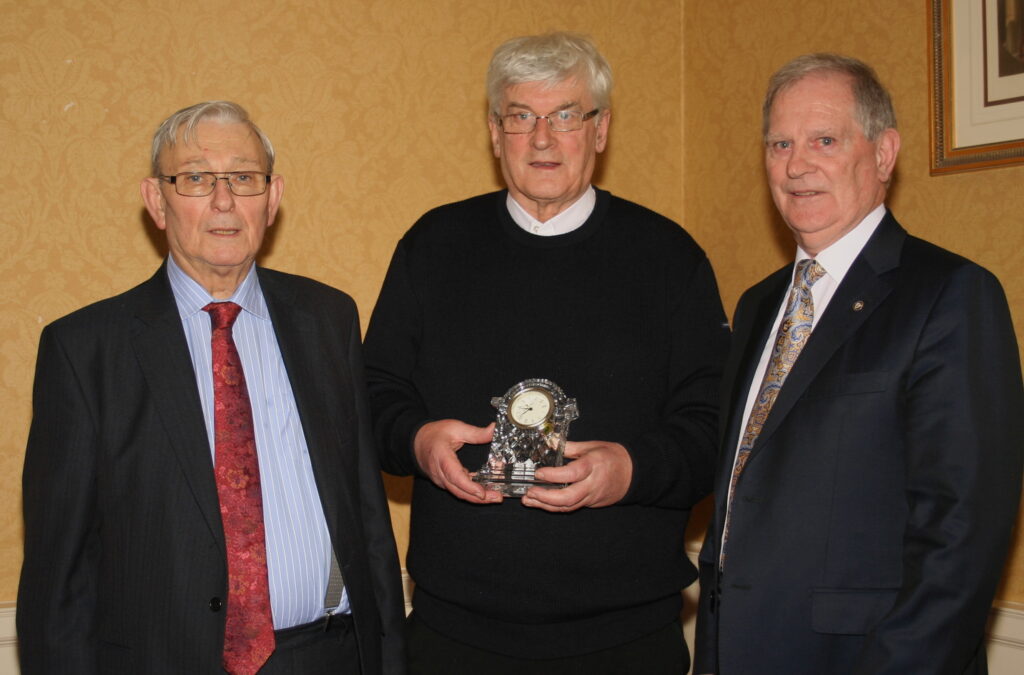 This year's recipient is of the Hall of Fame award is sociologist Fr. Harry Bohan in honour of his many years of work in rural development. A former Clare hurling manager in the late 1970s and early 1980s, winning two National League hurling titles and reaching three Munster finals, he later served as a hurling selector. One of Ireland's best known social commentators, he founded the Rural Resource Organisation which built houses in 120 villages throughout Ireland.
Fr. Bohan founded the Céifin Centre for Values in 1998, which evolved from practical experience of developing communities across Ireland in an effort to counter the growth of cities. Céifin's main aim is to generate the capacity for debate on social change issues. It does this through facilitating a number of activities and programmes including conferences, lectures, workshops and research projects. Further information on these initiatives is available at www.ceifin.com
2013
Clare Person of the Year 2013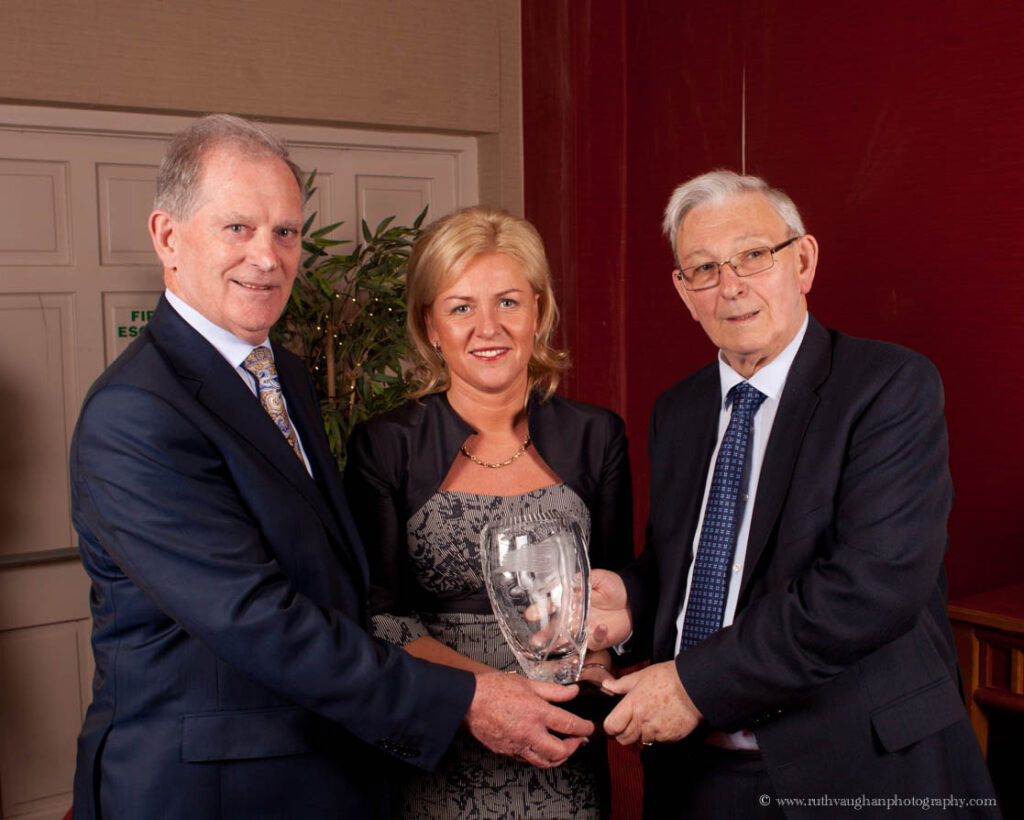 Clare Crusaders Children's Charity co-founder Ann Norton is Clare Person of the Year 2013. Clare Crusaders is a registered charity (No. 16966) which was founded in 2005 by a group of parents of children with special needs to provide much needed therapy to children living in County Clare with special needs in the areas of Cerebral Palsy, Autism, Down Syndrome and other conditions. Ms. Ann Norton manages the Clare Crusaders Clinic at Barefield, Ennis on a voluntary basis. For more information on the Clare Crusaders please see clarecrusaders.ie

Hall of Fame Award 2013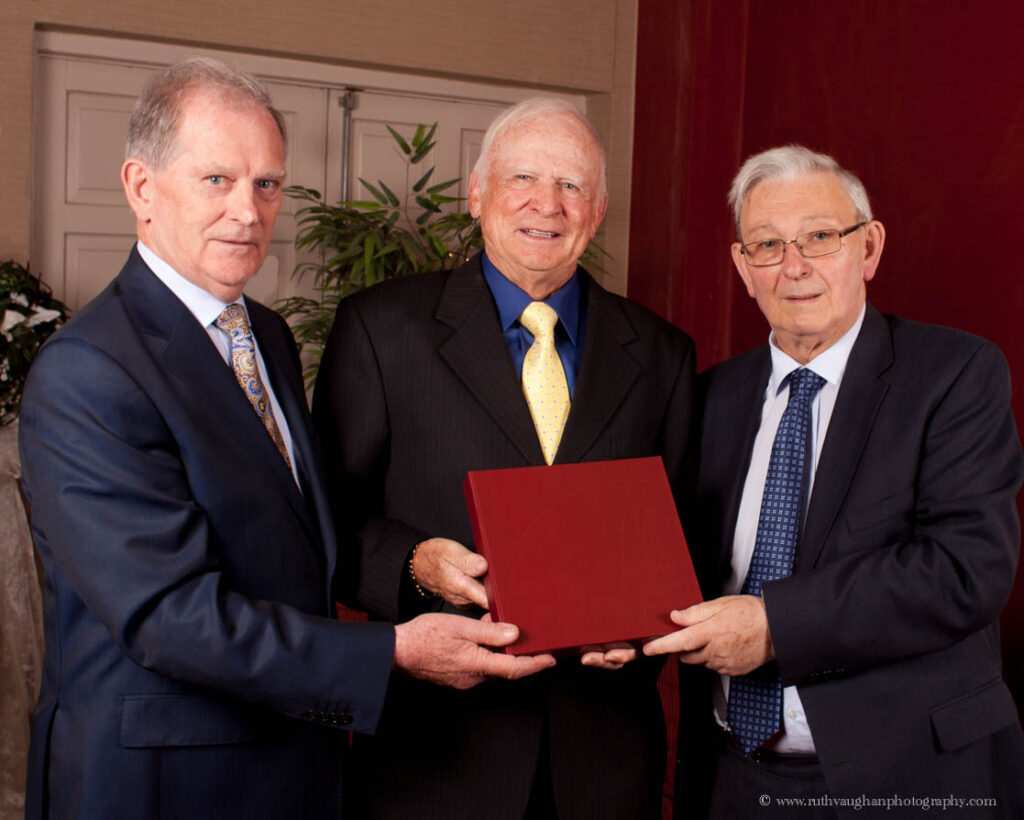 The recipient of the 2013 Hall of Fame Award is Mr. P.J. Harvey, a native of Bealaha, Doonbeg and a resident of New York for almost fifty years. He is being honoured for his enormous contribution to Co. Clare charities over the years including St. Clare's School in Ennis. After emigrating to New York in 1960, he joined the Carpenters' Union and rose to become its president. During his time in the Union, he helped many Irish emigrants to settle into their new environment in the USA and was instrumental is providing them with work and giving them a start in life. Now retired and living in Long Island, he has organised many golf tournaments in New York over the years which have benefited charities in County Clare.
Clare Person of the Year 2012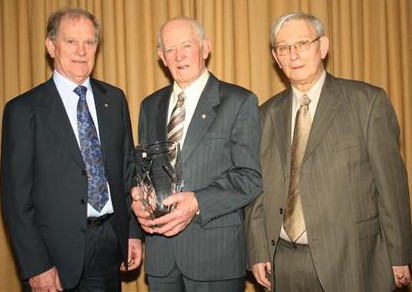 Legendary concertina player Chris Droney from Bellharbour, County Clare is the recipient of Clare Person of the Year award 2012. Born in Bellharbour in 1924, his father James and grandfather Michael played concertina and Chris learnt to play by ear from them from an early age. He played with many Céilí bands down through the years including the Bellharbour, the Ballinkill, Aughrim Slopes, Kincora, Four Courts and Kilfenora, toured the USA and Britain with Comhaltas Ceoltóirí Éireann and made a number of recordings in his own distinctive style. He was All-Ireland Senior Concertina Champion nine times and still plays regularly throughout Ireland and abroad.
Hall of Fame award 2012
Pat and Neilus O'Doherty are the recipients of the 2012 Hall of Fame award for their work for various charities over the years. Their activities have included helping to arrange visits to County Clare for children from Belarus and on a local level assisting with sporting activities for children in Co. Clare.
Currently they are working with the Pembra support group in Tanzania which they helped to co-found and have helped to arrange to have volunteers from County Clare and beyond working in that area. For more information see: pembasupport.org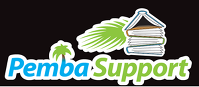 Clare Person of the Year 2011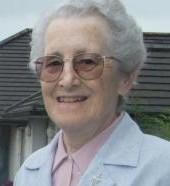 A missionary nun who has devoted her career to looking after the sick in Africa has been conferred with the Clare Person of the Year award 2011 by the Clare Association in Dublin at its annual dinner dance in the Carlton Hotel. Sr. Maura O' Donoghue (pictured) from Lickeen, Kilfenora, who is a medical doctor and member of the Medical Missionaries of Mary, received the honour after coming to the Association's attention for her pioneering work in Nigeria and Ethiopia. She has served terms on the general council of Mother Mary Martin and as her order's regional superior for Europe.
Sr. Maura was one of four children of the late Andrew and Katherine (Baby) O'Donoghue. Both of her parents came from Lickeen and her mother was the former Katherine O'Brien. Her father, Andrew was in charge of the North Clare IRA Brigade during the War of Independence. Her mother and aunts were also were also involved and took great risks during that time. Their children were Sr. Maura; Anne, who is in Cleveland, USA; Jimmy in Lickeen and Paddy, in Gortown.
Sr. Maura went to primary school in Kilshanny where her uncle's wife, Mary O'Brien née Williams was teaching. Her secondary school education was in Mountmellick after which she entered the medical missionaries of Mary in Dublin. Her first year was spent studying medicine in university and she interrupted her studies to do her novitiate year. She returned as a second-year novitiate to continue her medical studies. In 1958, she went to Nigeria where she worked in a hospital and made her final profession there one year later. Also in 1959 she was appointed to the General Council of the Medical Missionaries of Mary. Mother Mary Martin then asked her to accompany her during an extended visit to many countries where the Medical Missionaries had been invited to establish new missions.
Later assignments included Spain – where she had to re-sit all her medical examinations through Spanish which was followed by a period when she was Regional Superior of Europe. She returned to Ethiopia in 1971 where she suffered resistant malaria over two years before being assigned to Gambo, Ethiopia which was free of malaria but where leprosy was a serious problem. Some time later, Sr. Maura spent a year at the Liverpool School of Tropical Medicine studying for her Master's degree in Community Health and then returned to Ethiopia to head up a team working on Community Health, as well as being medical co-ordinator for Catholic Mission projects. In 1984, Sr. Maura moved the Catholic Secretariat in Addis Ababa to co-ordinate the Famine Relief Programme.
In presenting her with her award at the annual dinner dance, Liam O'Looney, then chairman of the Clare Association, told guests that Sr. Maura joined the Medical Missionaries of Mary at a time when it was still unusual to have religious sisters practising medicine and surgery. However under the direction of the Medical Missionaries of Mary, nuns started to qualify in medicine. He said Sr. Maura had a distinguished career in missionary work, mostly in Africa and other developing countries. She initiated welfare schemes and clinics for the hungry during famines in Africa. She was also to the fore in starting up AIDS clinics and HIV treatments for sufferers.
In accepting her award at the Clare Association function, she spoke of her experiences in Nigeria and Ethiopia and said that she was accepting the award in appreciation of the people who supported her in her work.
Sr Maura spoke about first going to Nigeria in 1958 to work in a hospital and later to Ethiopia where, in 1974, the semi-communist 'Derg' regime came to take power. She recalled that this represented a serious challenge to foreign missionaries in the country with the new regime hostile to both foreigners and anyone associated with a church. "They were troubled times – I was interrogated by them for four hours every Friday. This lasted for 18 months, but I held tough" said the North Clare-born missionary, who spent 14 years in Ethiopia.
During that time she was medical superintendent of a hospital that had 54 out-reach clinics. She supervised all of the out-reach clinics while living in tents. On behalf of the Catholic Secretariat in Addis Ababa, she also co-ordinated famine-relief work and organised control of serious cholera epidemics.
On returning to live in the Congregation Centre and Communications Department of the Medical Missionaries of Mary in Ireland at Booterstown, she commenced working with the Catholic Agency For Overseas Development, CAFOD, the official aid agency of the Catholic Church in England and Wales. Since 1986 she was responsible for the HIV-AIDS desk on their behalf, a position that took her to 72 different countries for training workshops and project assessment. In retirement, she undertook the work of countering human trafficking, a worldwide problem, and a task that also took her to many countries all over the world. All in all, her work took her to 83 different countries but she always remained close to her family who supported her in every way.
Sr. Maura O'Donoghue, Medical Missionaries of Mary, died on 5 May 2015. Ar dheis Dé go raibh a h-anam dílís.