The Clare Association Dublin – Muintir an Chláir is delighted to announce that the Awards Dinner will be held in the Falls Hotel, Ennistymon on 1st October, 2022 following the postponement of the Annual Awards Dinner in 2020 due to the pandemic.
For tickets please contact Gerry O'Reilly at 086-8498192
Clare Person of the year 2020/22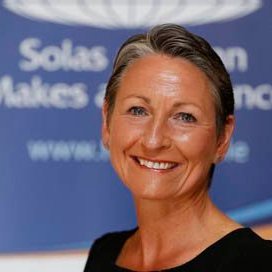 The Clare Association – Muintir an Chláir is pleased to announce Dr. Susan Crawford, Autism Advocate, as the Clare Person of the Year for 2020.
Susan is being recognised for her efforts to address quality of life issues for children and adults with autism.
Through her commitment to education, research and the provision of practical programmes she is striving to make a real difference in the lives of those on the autism spectrum. She promotes the necessity of fundamental movement skills in regulating behaviours especially those of people with autism.
Susan's interest in the area of autism was inspired by her own son, Tomás, being diagnosed with autism in 1998.
She specialises in focusing on autism from research, policy and practice perspectives. She has been actively involved in addressing the learning and overall development of education, health and activity programmes for children and adults with autism for over 20 years.
She completed a PhD in the field of Fundamental Movement Skills and Autism in 2007. She is a two time Fulbright Award winner for her work on development of autism awareness programmes. She has researched and developed the Get Autism Active online programme.
Get Autism Active is committed to developing skills of movement for children and adults on the autism spectrum. Research has demonstrated that having a repertoire of movement provides opportunity for further development of health related physical activity, participation in exercise and sport and social inclusion. It also enhances inclusive practice and development of opportunity particularly for children and adults with diverse needs.
The objectives of the programme are to attain equality of access for all especially in the areas of skill development, education and health. Its specialty area of expertise and research includes fundamental movement skill development for children and adults with autism and health related research across the lifespan.
Susan is actively involved in fundraising and developing awareness of and for Autistic Spectrum Disorders. She has completed marathons, half marathons and 10k runs all over the world including one in the Antarctic. Susan's son Tomás is also a keen runner and has joined her to complete several 10km runs and half marathons nationally and internationally. In 2019, she undertook a 2,500 km walk, run and cycle along the Wild Atlantic Way from Kinsale to Donegal in a bid to build awareness around autism and to promote Ireland as "autism active and autism aware"
Hall of Fame Award 2020/22
The Clare Association has voted to honour Mary Fitzgerald with a Clare Association Hall of Fame Award for her outstanding contribution in the area of domestic abuse in County Clare in providing refuge and support services to women and children fleeing domestic abuse through Clare Haven Services.
This award honours not only Mary's efforts and also recognises the dedication and efforts of Colette Redington, Gerry Brennan and Madeline McAleer and the tremendous work of the Clare Haven Horizons Charity Shop which supports both the frontline services and the development work
Clare Haven Services is a voluntary organisation providing 24 hour residential refuge accommodation together with support and information to women and children who experience domestic abuse. It has an extensive range of support services to meet the needs of each individual and each family situation.
Haven Horizons, a national charity, has also been established to work to break the cycle of domestic abuse through international best practice and evidence-based prevention models and is committed to the elimination of gender based violence in society.
Meitheal Award

A Meitheal award will be presented to the Ennis Tidy Towns Committee for their outstanding contribution to their local environment and for their consistency of achievement in the National Tidy Towns Competition.
Ennis Tidy Towns has over the years received a number of accolades from the National Tidy Towns Competition and is currently ranked Ireland's tidiest large urban centre.